On Tuesday, August 23, 2022, Verde Ranch Estates celebrates a milestone and welcome its 100th Resident. The neighborhood's first phase is fully complete, and the buildout of the second phase is well underway. The staff and residents of the neighborhood will be celebrating this milestone later this month.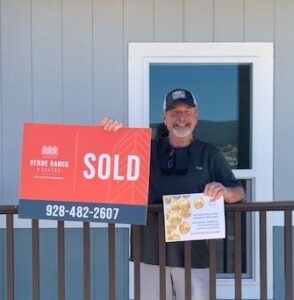 Managed by CRR: A Lifestyle Company, Verde Ranch Estates is proud to be a partner and member of Camp Verde along with its sister properties, Verde Ranch RV Resort and Verde Ranch RV Storage. "We are delighted to bring an affordable housing option to Camp Verde, a community that has welcomed us with open arms. We continue to be excited to partner with the town in helping to bring jobs, new residents, and economic development to the area," says Mike Harrison, CRR's Chief Operating Officer.
Conveniently located in Camp Verde, Arizona, Verde Ranch Estates provides luxurious living at an affordable price in Verde Valley – the heart of it all. Only 90 minutes north of Phoenix and 60 minutes south of Flagstaff, Verde Ranch Estates is an ideal setting for those who are ready to live life on their terms. Spanning 107 acres, amenities include an entertainment-filled Clubhouse with Fitness Center, Game Room, and Conference room. The pool deck overlooks amazing views of Verde Valley. Residents enjoy pickleball courts, a 3,000-square-foot dog park, and a group pavilion area with barbeques that residents can use for family gatherings. As additional phases of development are added, plans for hiking and walking trails along the adjacent Verde River are planned.
To learn more about Verde Ranch Estates, please visit https://verderanchestates.com
About CRR –
CRR provides award-winning RV Resorts, beautifully built manufactured housing neighborhoods, auto wash, and convenient RV/boat storage solutions. CRR properties offer high-quality amenities to provide their customers with unique and enjoyable places that offer accessible luxury and fulfillment.
Visit our website at https://crrhospitality.com/ to learn more about our services. You can also email us at info@crrmgmt.com or call us at (928) 554-7710 for inquiries.